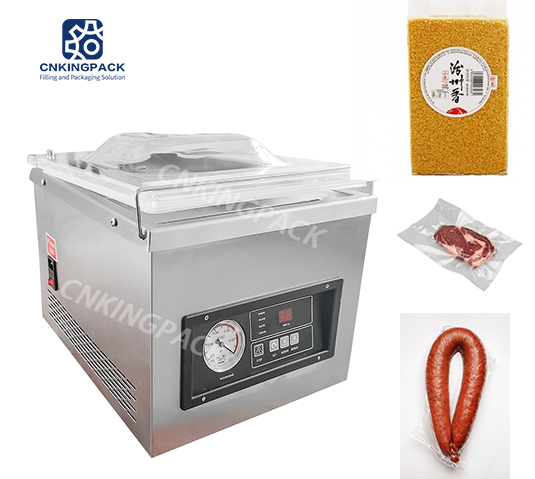 DZ-400/2F Table type Vacuum Packaging Machine
This vacuum sealing machine is suitable for vacuum sealing of small and medium bags. It can be used to seal grains, medicinal materials, tea, liquids and other products.
Description
DZ400/2F Table type vacuum packing machine is featured by  processing of vacuuming, sealing,  cooling, which is used in vacuum packaging for the food, pharmaceutical, aquatic, chemical and electronic industries.
It can prevent the products from oxidization and mildew, as well as corrosion and moisture, keeping the quality and freshness of the product over a prolonged storage time.
Features
01It's suitable for work at relatively narrow site or need move the site frequently;
02 Easy to operate, just need to press the vacuum chamber cover, then press the set procedure to complete the vacuum pumping;
03 After being packed in vacuum, the product is well protected against oxidation, mildew, moth eaten and damp, thus extending the storage period of the product;
04 The vacuum chamber is made of transparent plexiglass to monitor the whole vacuum pumping process;
05It also have other machine size. The vacuum chamber is large.
Advantage
01The vacuum packaging machine is made of stainless steel shell, you only need to use touch buttons on the control panel, set the packaging parameters in advance, and then press the vacuum cover to automatically complete the whole process.
02The single-chamber vacuum packaging machine can print the date when sealing.
03The type and weight of this vacuum packaging machine are very small, very easy to operate.
04Low price, high quality and wear resistance.
Applications
This machine widely used in various types of food, hardware, pharmaceuticals, chemicals, aquatic products, electronic components industries, various forms of products (solid, liquid, powder, paste) in vacuum-packed. It can prevent the product due to oxidation or spoilage caused by bacterial growth to achieve the extension of product shelf -life and storage time purpose.
Parameter Data
| | |
| --- | --- |
| Model | DZ-400/2F |
| Voltage | AC220/50HZ, 110V/60HZ     |
| Motor Power | 1000W |
| Sealing Power | 500W |
| Ultimate Vacuum Pressure | 1 KPA |
| No.of Sealing Bars for Each Chamber | 2 pcs |
| Chamber Dimension (LxWxH)(mm) | 435*420*75mm |
| Sealing Length (mm) | 400 |
| Sealing Width (mm) | 10 |
| Vacuum Pump Rate (m³/h) | 20 |
| Material for Vacuum Chamber | Stainless steel |
| Dimension (LxWxH)(mm) | 540*490*540 |
| Net Weight (kg) | 59 |
| Distance from sealing bar to chamber side (mm) | 370 |