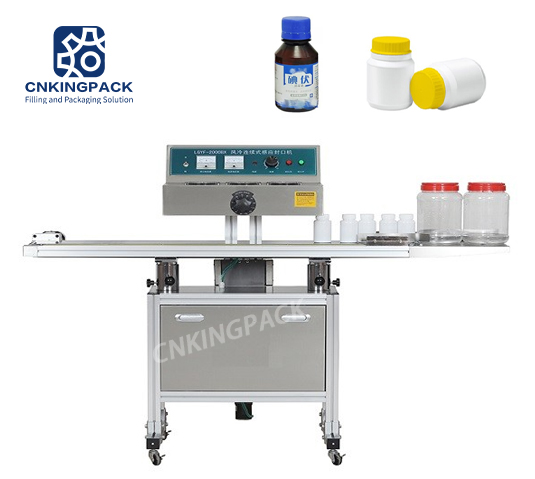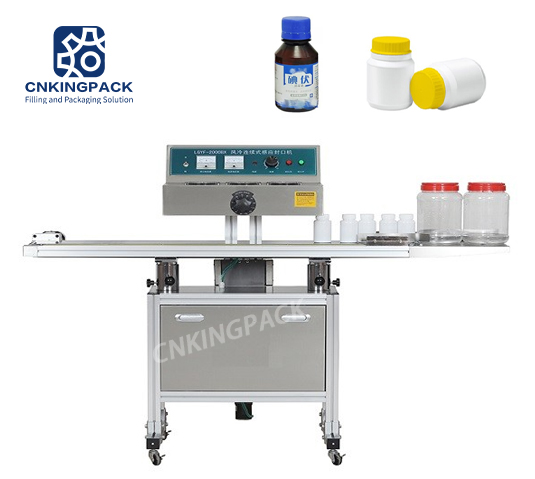 LGYF-2000BX Automatic Continuous Induction Sealing Machine with Conveyor 20-130mm
Description
This series of machine of high voltage control circuit, induction tube head adopts concave induction structure. 
Its characteristic is output power, speed, sealing good stability, corrosion resistance is strong. 
Suitable for acid. 
High humidity and dust more harsh environments (such as pesticides. SAN, etc.) for a long time. 
Can be used independently or with single line. 
And the dust in the bad environment more (such as pesticides etc) for a long time. 
These series machines are suitable for single homework, do not use in line connected.
Features
01LGYF-2000BX continuous sealer adheres to the bung hole, reaching the aim of wet-proof,leakage-proof, mildew-proof and extending preservation time.
02It is widely used as sealing package machine in industries such as pharmaceuticals, pesticides,pesticides, lubricant and cosmetics etc.
03Aluminum foil is sealed automatically when bottle is transmitted through under induction coil by conveyor.
Advantage
01Stainless steel construction for using in harsh environment and easy for clean and maintenance;
02It can work with seals of various materials for bottles or jars;
03Fast speed for bulk production;
04 It has stable and reliable performance with long working life;
05 Conveyor speed & sealing speed variable;
06 Easy to use, no special train on operator required;
07Height of sealing line adjustable to accept wide range of bottle heights;
08Electric current overload, voltage overload and output overload protection;
09Air Cooling System eliminates all water cooling pipes, pumps, filters and flow switche
Applications
01High-quality sealing: The machine uses electromagnetic induction technology to generate high heat, which melts the aluminum foil and fuses it to the container. This creates a strong and airtight seal that prevents leakage and contamination of the product.
02Wide compatibility: The machine can seal containers of various shapes and sizes,  making it suitable for a wide range of products.
03High efficiency: The machine can seal up to 20-40 containers per minute, depending on the size and shape of the container. This makes it suitable for small to medium-sized production lines.
04Compact design: The machine has a small footprint and can be easily placed on a tabletop or counter. It is also lightweight and easy to move, making it ideal for small production spaces.
05Versatility: The machine can be used in various industries such as food and beverage, pharmaceuticals, cosmetics, and chemicals.
06,Cost-effective: The machine is an affordable investment that can improve the sealing process and increase productivity, making it cost-effective for businesses.
Parameter Data
| | |
| --- | --- |
|  Model: |  LGYF-2000BX |
| Sealing diameter (mm) : |  20-130 |
|  Electrical source: |  AC220V  50Hz |
|  Conveyor: |  50kG |
|  Host: |  98kg |
|  Conveyor size (cm) : | 156*98* 54 |
|  Host size (cm) : |  54*130*46 |
|  Sealing speed (m/min) : |  0-12/second |
|  Applicable bottles of high (mm) : |  40 ~ 300 |
|  Case materials: |  stainless steel + aluminum |