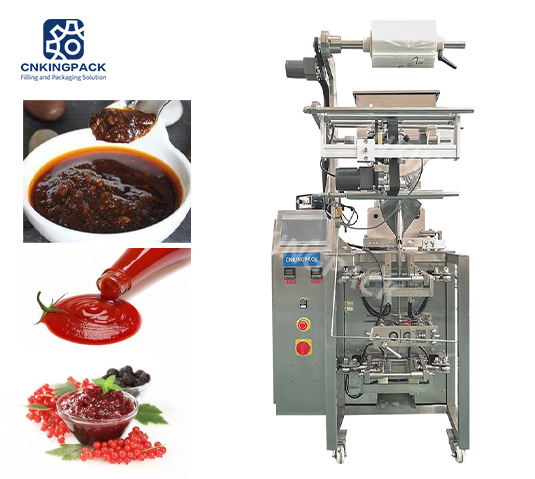 KPL-320SBFU Automatic U type Paste/Liquid Packing Machine
This machine is suitable for packing sauce,like ketcup,shampoo,chili sauce,and so on. The hopper can mix the product evenly.PLC touch screen control the machine. The bag style can be 3 sides sealing,back sealing and four sides sealing.
Description
This machine is designed for filling and back side sealing paste or liquid which is packed in bags like sauce package,bagged milk,bagged water.This machine is also with mixing function which ensure the material can be filled more equably.The filling volume and speed can be adjusted according to operation needs.It is widely used in food,beverage and chemical industries.
Features
01Can finish the function of bag making, measuring,filling,sealing,cutting and counting.
02Controlled by PLC and step motor pull bag, flexible bag length cutting, operator needn't to adjust the unloading working, saving time and saving films.
03Separate PID control to temperature, suitable for various packing materials.
04Option device: ribbon printer, filling device, gas-exhaust device, horizontal sealing punching device, rotary cutter, small cutter, former beat device, batch pneumatic cutter.
05Simple driven system, working more stable and easy to maintain.
06Packing material:(PET/PE), (Paper/PE), (PET/AL/PE), (OPP/PE)
07The machine is with programmable controller as well as an English display screen that makes it easy to operate and convenient.
08Photoelectric digital tracking system makes it possible to set the length of package and when packing film with cursor mark is used, and the machine will be automatic stopped if it can not track the mark after three bags.
Advantage
01The touch screen operation, PLC control, drive stepper motor to control the bag length, stable performance, easy to adjust and accurate detection. Choose the intelligent temperature controller and PID control
02Configure plexiglass protective cover,Beautiful and safe.
03U type horizontal hopper with mixing function,it is with mixing function before filling material,it will mix materials equably.
04All made of stainless steel material, with stable working performance and durability.
05Low energy consumption, low noise, energy-saving and environmentally friendly, and simple operation.
Applications
This machine is suitable for food, chemical and pharmaceutical industries such as automatic quantitative packing of tomato paste, shampoo, facial cream, spices such as paste, sauce , and jam.
Parameter Data
Model No.

 KPL-320SBFU

Packing speed

 30-70bag/min

Range of measurement 

 0 -500ml

Bag size

 W:30-150mm  L:30-200mm

 Bag size can be lengthened according to customer requirement

Voltage

220V/110V,50Hz/60Hz

Power

 2.2KW

Dimension

 1150*750*1750mm

Packing material

 (PET/PE), (Paper/PE), (PET/AL/PE), (OPP/PE)

 Method of Measurement

 Piston pump type

Hopper volume

 90L

Weight

350kg