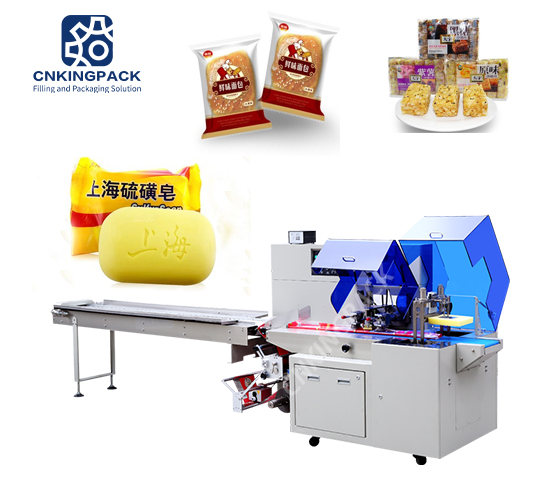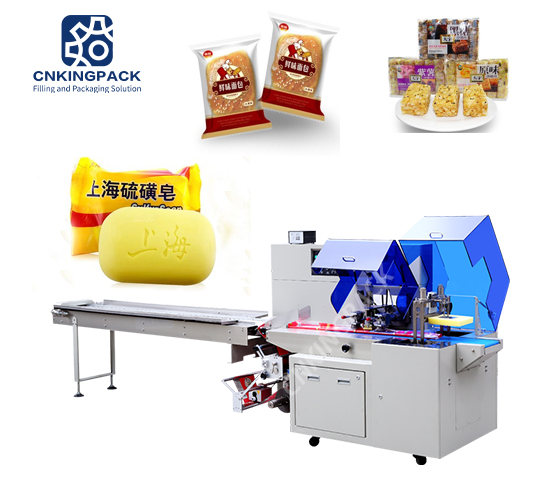 BG-450W Reciprocating upper paper pillow packing machine
This Machine is suitable for packing regular objects, such as biscuits, fruits, candy, moon-cake, bread, bars, dessert, instant noodle, industrial parts, box, trays, face mask, etc
Description
This Machine is suitable for packing regular objects, such as biscuits, fruits, candy, moon-cake, bread, bars, dessert, instant noodle, industrial parts, box, trays, face mask, etc
Features
01 Double motors, converter and PLC controller,flexible bag length setting and cutting,saving time and film.
02 human-machine interface, convenient and quick parameter settings.
03Self diagnosis failure function, failure displayed clearly.
04 High sensitive optical electric color mark tracking system and digital input cut position, which make the sealing and cutting more accurate.
05Separated PID control system for temperature, suitable for various packing materials.
06 Stopping the machine in selected position, no sticking on the knife and no waste of the film.
07Simple driving system, reliable working, convenient maintenance.
08All controlled by program, convenient for function adjusting and upgrading.
Advantage
01Cross seal and middle seal are controlled by independent Panasonic servo motor.With simple mechanical structure stable operation and low noise.
02High speed,high accuracy,the maximum speed can be up to 500 bags/min.
03 Human machine interface convenient and smart parameter settings.
04 Automatic fault diagnosis function,fault displayed clearly.
05Color tracking digital input seal cutting position,make the seal cutting position more accuracy.
06All controls can be implemented by software system,facilitate functional tuning and technical upgrading, and never fall behind.
Applications
| | |
| --- | --- |
| Food | Cake, Bread, Meat , Pastry, Biscuits, Green Bean Cake, Several Sausage In a Bag, Noodles, Beef Jerky, Etc. |
| Hardwares | Hinge, Stainless Steel Pipe, Bearings , Screw, Nuts And Washer, Etc. |
| Hotel Supplies | Soap, Disposable Comb, Tooth Paste And Brush In One Set. |
| Stationary | Pencil, Eraser, Notebook, Paper Card, Adhensive Tape. |
| Electric Products | Battery, Usb Cable, Earphone, User Manual And Accessories In One Set. |
| Medical Products | Mask, Glove, Gauze, Capsule. |
| Daily Use Products | Knife, Fork, Plate, Sponge, Scourer, Wipes, Several Straws In a Bag, Cups, Bottles. |
Parameter Data
| | |
| --- | --- |
| Model  | BG-450W |
| Film width | max 440mm |
| Bag length | 120-450mm |
| Bag width | 80-200mm |
| Product height  | 130mm |
| Film roll diameter | max 320mm |
| Packing speed | 40-80 bags/minute |
| Power specification  | 220v,50/60HZ, 3.2KW |
| Machine size | L3985*W861*H1474mm |
| Machine weight | 750kg |
Note: Reciprocating end seal mechanism, the seal is more firm, and the seal cutter hasno loss. End-sealing gusseting device, the bag shape is more beautiful, and improved the product level.