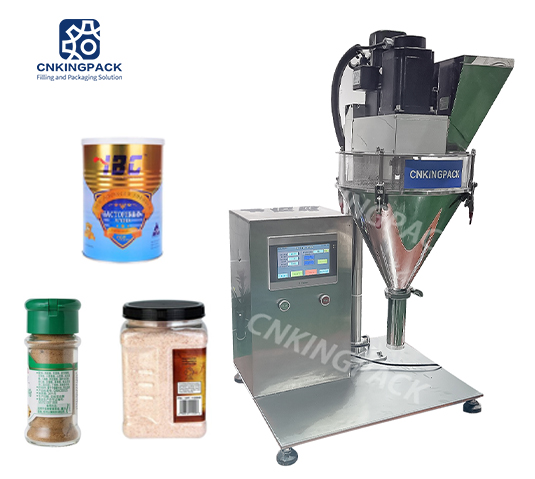 KPL-700 Desktop Powder Filling Machine
The machine adopt s PLC control system ,which is semi-automatic powder filling equipment ,it can be used in all kinds of non-artesian powder filling .such as ground spices, milk powder, beans powder ,medicine ,etc
Description
It has the characteristics of fast speed, higher precision, high stability, strong anti-interference, corrosion resistance, convenient cleaning, good appearance and long life. More suitable for packaged food, medicine, chemical and other industries easy to flow or very poor mobility of granular commodities, such as milk powder, solid drinks, sugar, glucose, coffee, feed, solid veterinary drugs, medicine, pesticides, granular additives, dyes and so on.
Features
01Can be adjusted for different sizes of volumes easily.
02All the parts are from world famous brands with stable and durable performance.
03Bench top is very convenient for operation. Efficient and economic.
04Auger dosing with high accuracy.
Advantage
01This powder filling machine is integrated with machine, electricity, light and instrument. It is controlled by single chip computer. It has the functions of automatic quantification, automatic filling, automatic adjustment of measurement error and so on.
02Stepping motor and electronic weighing technology, fast speed and high precision.
03The same quantitative packaging machine can be packed 0.1-100g by adjusting and replacing filling parts of different specifications with the keyboard of electronic scale.
04Errors caused by material specific gravity and material level change can be automatically tracked and corrected.
Applications
Used for dry powder, cosmetic powder, milk powder, protein powder,seasoning powder,ground cinnamon,sugar etc.
Parameter Data
| | |
| --- | --- |
| Model  | KPL-700 |
| Capacity | 10-30 pcs/min |
| Range of measurement | 1g-1000g (filling screw need to be replaced) |
| Volume | 16L |
| Measuring method | Screw metering  |
| Size | 550×400×800mm |
| Weight | 85kg |
| Suitable for bottle height | 50-200(mm) |
| Suitable for bottle diameter | 15-100(mm) |