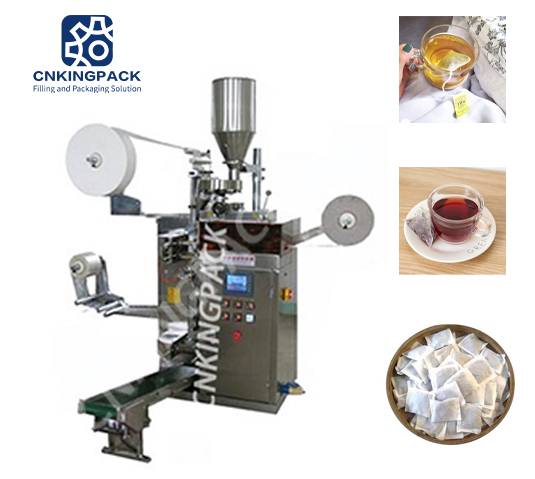 YS-169 Tea Bag Packing Machine
This machine is suitable for green/black tea, medical tea packing, inner bag and outer bag was forming at one time.
Description
01The machine is suitable for green tea, black tea, scented tea, coffee, Chinese tea, health tea, herbal tea, granule.
02Outer sealing paper is controlled by the stepper motor,stable bag length and accurate positioning.
03The machine can automatically finish the load, measuring, bag making,sealing, cutting, counting, finished product conveyor, and other functions..
Features
01Adopt the imported ultrasonic sealing, use the electronic scale metering to cutting-stock, perfect sealing,cutting-stock accuracy .
02Packing material: filter paper,thread,composite membrane.
Advantage
01All stainless steel cover meets to GMP Standard.
02tea bag packing machine with label with antipollution and dust proof device
03Adjustable measuring cup-adjust the measuring under the case of downtime
04 Sealing part: roller spend process is special designed and the effect of sealing is very well.
Applications
The tea packaging machine suitable for all kinds of teabag packaging.
Such as bulk tea, herbal tea, health tea, flower tea, tea powder, coffee powder and other internal and external bags are disposable packaging.
One machine for multiple purposes. Various packaging types are available upon request. Including tea sachet, single chamber tea bag with tag, double chamber tea bag with outer envelope.
Parameter Data
| | |
| --- | --- |
| Model: | YS-169 |
| Sealing mode: | three side sealing |
| Filling volume:  | 2-8 gram per bag |
| Inner bag size : | length 50—75 ㎜;width 50—75 ㎜ |
| Outer bag size: | length 85—120 ㎜;width75—95 ㎜ |
| Tag size: | 25X20mm |
| Power: | 220V/50HZ single 3.7kw |
| Heater : | top vertical heating element(inner)110V 350W 2pcs |
| top horizonal heating element(inner): | 110V 350W 2pcs |
| Mark heating bar:  | 110V 100W 2pcs |
| Bottom vertical heating element(outer):  | 110V 350W 2pcs |
| Bottom horizonal heating element(outer):  | 110V 350W 2pcs |
| Weight : | 650KG |
| Size : | 1400X800X1800(mm) |