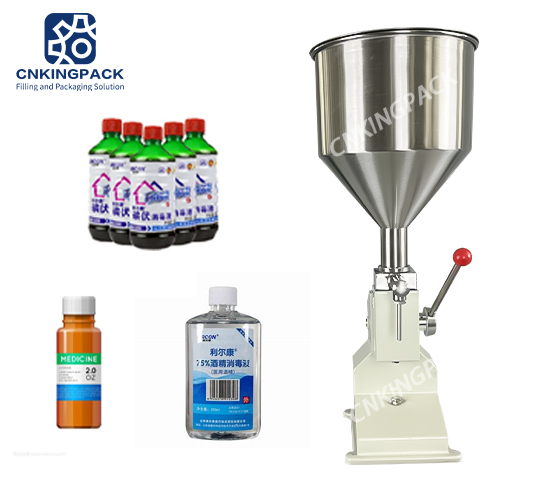 A03 Hand Press Filling Machine
This filling machine is suitable for filling cream, shampoo, cosmetic, soup, lube oil etc. It is easy to operate and suitable for small scale production. 
Description
01Reasonable struture design. Mainly made of stainless steel
02Easy to operate. Needs no other power
03 Quantitative filling. Filling quantity and filling speed can be manually controlled
04Parts contacted with liquid or paste part are made of 316L stainless steel. Acid and alkali resistant. Meets GMP requirements.
Features
01Adopts piston structure;
02Can be used to fill liquid and paste 0-50g quantitatively;
03Ideal equipment for filling paste liquid;
04Widely used in the filling of shampoo, cosmetic, soup, lube oil etc.
Advantage
1. No electricity, no gas, green and environmental protection, no pollution;
2. The structure of the machine is simple and the operation is convenient;
3. Wide range of applications, suitable for a variety of low-concentration liquid products.
Applications
Suitable for food, beverage, daily necessities, chemical industry and other industries
Parameter Data
| | |
| --- | --- |
| Model | A03 |
| Work Type | Manual Press |
| Work Speed | 20-30 times/min |
| Filling Range | 0-50ml( External Button, adjustable) |
| Filling Mouth Diameter | 7mm x 8mm(Inner diameter x Outer diameter) |
| Accuracy | ±1% |
| Hopper Capacity | 10kg |
| Overall Size | 270*270*700mm |
| Gross Weight | 15kg |