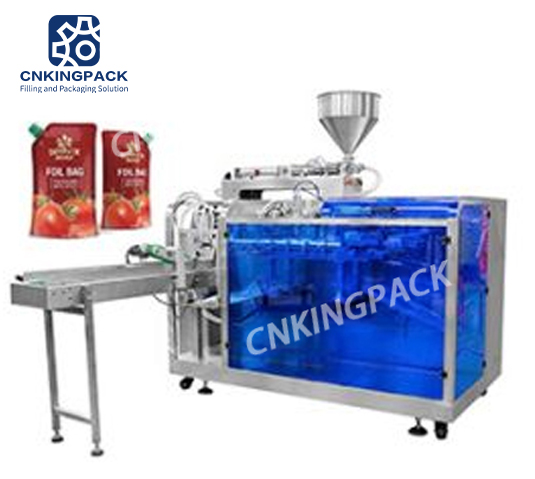 KPL-160HPL Horizonal Type Premade Bag Packing Machine for Liquid/Viscosity Products
Description
Fully automatic horizonal premade bag packing machine is suitable for liquid material packaging in food, medicine, daily necessities, agriculture and other industries, such as ketchup, tartar sauce, pasta sauce, mayonnaise, honey, soy sauce, broth, milk, juice, sports drinks, Body wash, shampoo, laundry detergent, etc.
Features
01It is small and can be used in the elevator without site restrictions
02Four process operation, low failure rate and high stability
03The production speed is fast, which can be combined easily, and the speed can be up to 50-60 packets/minute
04One button operation, which can be used immediately after startup, without professional personnel
05No need to add accessories to replace the bag type, good compatibility, suitable for various special-shaped bags
06Liquid materials: purified water, oil, jam, soup, detergent, chemical liquid, etc
Advantage
01Equipped with stable filler.
02High filling accuracy, fast packing speed, easy to operate and adjust.
03Liner filling and sealing.
04Stainless Steel Construction.
Applications
01Suitable for food, beverage, daily necessities, chemical industry and other industries.
Parameter Data
| | | | | |
| --- | --- | --- | --- | --- |
| Model | KPL-160HPL | KPL-210HPL | KPL-260HPL | KPL-320HPL |
| Bag width | 80*160mm | 90*210mm | 150*260mm | 200*320mm |
| Bag length | 100*190mm | 110*330mm | 150*400mm | 150*500mm |
| Packing speed | 20-70bags/min | 20-60 bags/min | 10-60 bags/min | 10-50 bags/min |
| measuring range | 5~300ml | 50~1000ml | 200~2000ml | 500~3000ml |
| Power | 3kw50hz | 3.5kw 50hz | 3.5kw 50hz | 3.5kw 50hz |
| voltage | 220/380v | 220/380v | 220/380v | 220/380v |
| air consumption | 0.5m³ | 0.5m³ | 0.5m³ | 0.5m³ |
| weight | 600kg | 900kg | 1100kg | 1500kg |
| size | 1400*900*1050 mm | 2150*1350*1300 mm | 2450*1350*1350 mm | 2800*1350*1350 mm |