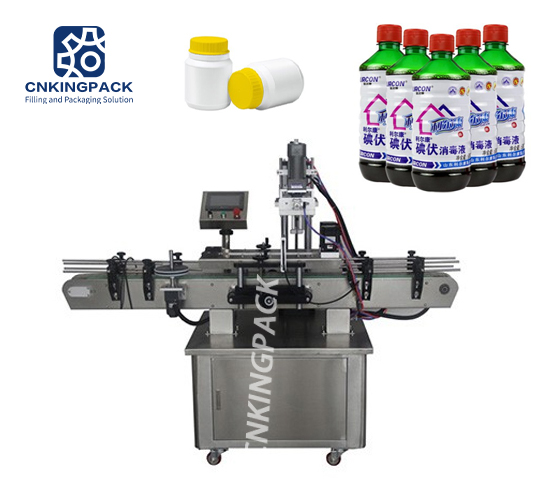 PC-200 Automatic Twist Cap Capping Machine
This automatic capping machine is suitable for round cap,spray/pump tightening, can work with existing filling line.Electrical control movement, strong stability;With positioning devices, standard Capping, easy to operate
Description
This automatic capping machine is suitable for round cap,spray/pump tightening, can work with existing filling line.Electrical control movement, strong stability;With positioning devices, standard Capping, easy to operate;Wide capping range suitable for different shapes and sizes.
Features
01Intelligent operation panel make the working data visual,this help to control the machine better.and it is with stop button,can protect the machine from damage and keep the operator safe during working.
02There is no limitation of cap shapes,it is suitable for different kinds of bottle caps like spray bottle caps,dropper bottle caps.Caps diameter should be within φ 20-50mm.
03The conveyor is with bottle guiding device which is designed for arranging bottles in order.The high quality conveyor helps to improve working speed and save a lot of labor.
04With oil-water separator which can help you check the air pressure in all the real time and filter impurities.This machine should work with air compressor and customers need to buy this separately,if you need this please contact with us.
Advantage
01PLC controlled , touch screen operation, integrated cap capping (automatic cap sorting/cap feeding can be option)
02Automatic infeed cap and bottle position-setting and orientation, adjustable torque control.
03Gentle manipulation, no scratch and injury to caps and containers
04Easy changeovers, no need to change the fitting. just simple adjust.easy to operate.
one line capable of several bottle and caps.
05 Connected with filling machine and labeling machine easily
06Module structure, manipulate on the touch screen, easy maintenance
Applications
Widely used in detergent shampoo, shower gel, hand cleaning gel, laundry detergent and many other daily chemical products.resolved the difficult problem on nozzle cap, pump cap, spray pumps, spray gun in hand button Capping;Lock lid with adjustable speed can be adjusted according to different cap tightness.
Parameter Data
| | |
| --- | --- |
| Name | Automatic Twist Cap Capping Machine |
| Model | PC-200 |
| Application | Pump cap ,needle cap & standard cap capping |
| Production | 1000-2000B/Hour |
| Power | 220V 50Hz  0.7KW |
| Cap height | 10-30mm (can be customized) |
| Cap diameter | Φ 19--Φ 55mm(can be customized) |
| Bottle height | 80-350mm (can be customized) |
| Bottle diameter | Φ35-Φ100mm (can be customized) |
| Air supply | 0.4-0.6Mpa |
|  Weight | 280Kg |
| Dimension | 2000*1400*2000mm |