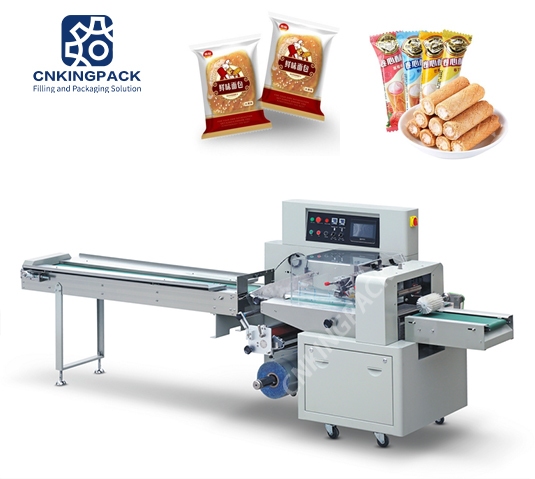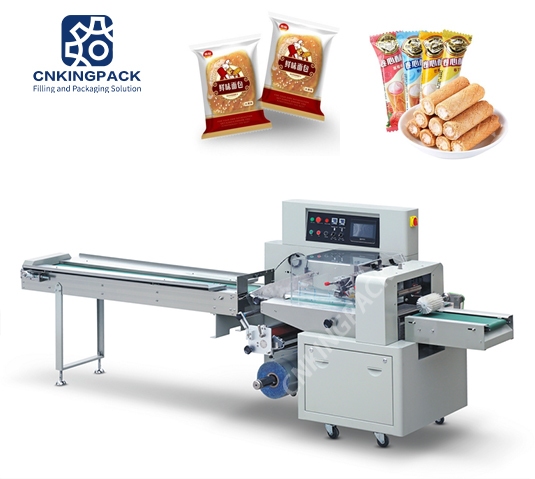 BG-600XD Rotary down film pillow packing machine
This Machine is suitable for packing regular objects, such as biscuits, fruits, candy, moon-cake, bread, bars, dessert, instant noodle, industrial parts, box, trays, face mask, etc
Description
This machine is designed for packing fixed shaped materials into pillow packages, suitable for packing all kinds of regular shaped solid products, including foodstuff, such as biscuits, breads, moon cakes, candies etc, commodities, industrial parts etc. For small pieces and separated articles, they should be put in to boxes or tied into blocks before this machine can be used to pack them, and this packing method is also applicable to pack other non-solid products.
Features
01 Double motors, converter and PLC controller,flexible bag length setting and cutting,saving time and film.
02human-machine interface, convenient and quick parameter settings.
03 Self diagnosis failure function, failure displayed clearly.
04High sensitive optical electric color mark tracking system and digital input cut position, which make the sealing and cutting more accurate.
05 Separated PID control system for temperature, suitable for various packing materials.
06Stopping the machine in selected position, no sticking on the knife and no waste of the film.
07 Simple driving system, reliable working, convenient maintenance.
08All controlled by program, convenient for function adjusting and upgrading.
Advantage
01Efficient: Bag-making, filling, sealing, cutting, heating, date / lot number achieved in one time.
02Intelligent: Packing speed and bag length can be set through the screen without part changes.
03Profession: Independent temperature controller with heat balance enables different packing materials; Dual inverters controller, upgradable PLC system, self-failure diagnosis, double encoder. 
04Characteristic: Automatic stop function, with safe operation and saving the film.
05Convenient: Low loss, labor saving, easy for operation and maintenance.
06Adapability: one set of machine can be applicated to different kind of product via optional devices, such as air-filling device,Punching device,feeding line, etc.
Applications
This Machine is suitable for packing regular objects, such as biscuits, fruits, candy, moon-cake, bread, bars, dessert, instant noodle, industrial parts, box, trays, face mask, etc
Parameter Data
Model

                  BG-600XD

Film width

                   Max.590mm

Bag length

                    120-450mm

Bag width

                     80-270mm

Product height

                     Max.80mm

Film roll diameter

                     Max.320mm

Packing speed

                     20~80bag/min

Power specification

              220V 50/60HZ.3.2KW

Machine size

         L4172 × W970 × H1405mm

Machine weight

                            700KG