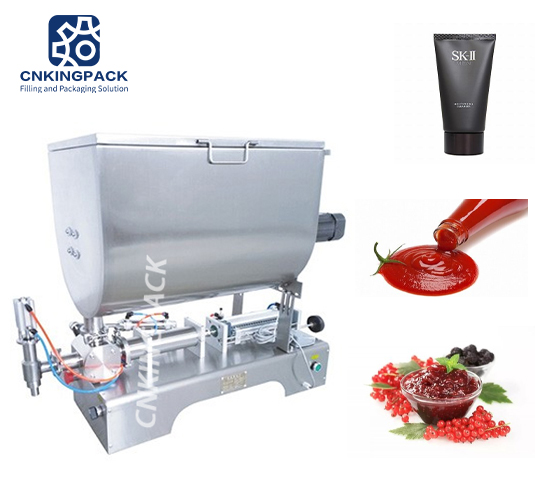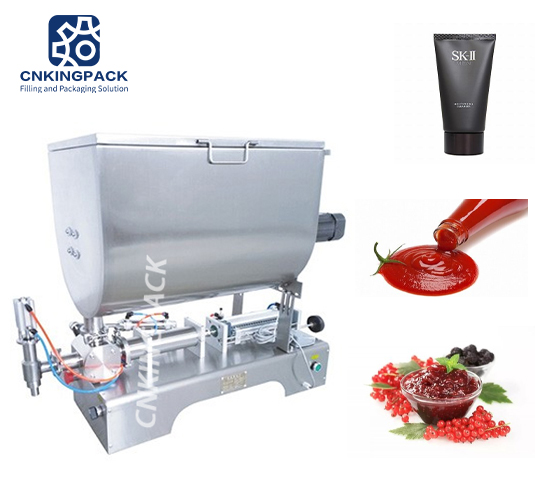 U type Sauce/Paste Filling Machine with Mixer
This filling machine is designed for filling thicker liquid and paste like shampoo,face cream,hot sauce,honey.It also has the mixing function,which can mix filling material more evenly before filling.
Description
Single head paste filling machine is a semi-automatic filling equipment, based on factory is introduction of advanced filling machine technology in Europe and America, transformation and innovation of the product,the machine is made of 304 stainless steel, removable tool-free clean, simple and reasonable structure,  High filling accuracy, Easy to operate; The machine can be foot-operated or photoelectric switch control filling and can be automatically filled online; suitable for a variety of viscous materials,widely used in pharmaceutical,chemicals for daily use,food,pesticides and special industries, is The ideal Medium and high viscosity fluid filling equipment.
Features
01This machine adopts pneumatic control and owns a wide application scope, simple measuring regulation, good shape and convenient cleaning, suitable for the explosion-proof unit.
02Reasonable design, compact shape, simple operation, partly adopt the German FESTO /Taiwan AirTac pneumatic components.
03 The contact part with the material is all made of 304 or 316 stainless steel, meet the GMP requirements and Food grade.
04 Filling volume, filling speed can be adjustable, filling accuracy is high.
05 Adopt the anti-drip, Anti-drawing and lifting filling device.
Advantage
01The filling volume is accurate and the error is small;
02The machine structure is simple and easy to operate;
03 No noise, low energy consumption, energy saving and environmental protection.
Applications
The paste filling machine is used of Tomato sauce,peanut butter,salad dressing,chili sauce,bean paste,sesame,jam,sauces,pasta sauce and special industry paste filling.
Parameter Data
Model

KP-100U /300U /500U /1000U /3000U /5000U

Voltage

AC220V

Power

120W

Filling range

10-100ml   30-300ml   50-500ml  

100-1000ml   500-3000ml   1000-5000ml

Production speed

10-25pc/min

Air pressure

0.4-0.6mpa

Suit bottleneck drameter

≥50mm

Filling head

1

Note:Contact with the materials are made of stainless steel 304